---
Blue Chip On The Cloud – Blue Chip Support
---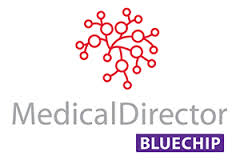 If you are the owner of a larger or specialist practice or even a private day surgery hospital, you will have heard of MedicalDirector Blue Chip or even be using it in your day-to-day operations, given that it works seamlessly with most practice types and business models. However, have you considered the benefits of accessing all the features of Blue Chip on the cloud?
Thanks to our proprietary Cloud for Health platform, it is now possible to easily integrate Blue Chip to the cloud, increase efficiency and reduce overall IT costs, whether those costs involve maintenance and updates of on-site infrastructure, salaries for IT staff or potential liabilities associated with older technologies.
By using our platform, you can effectively future-proof your business and enjoy all the benefits normally associated with cloud usage.
Why Blue Chip on the cloud?
On-site IT infrastructure is expensive to set up, maintain and update but if the cloud is utilised all of these requirements become the responsibility of the cloud service provider. You can of course maintain your existing infrastructure but simply add cloud features to increase efficiency.
Users of Blue Chip on Cloud for Health enjoy increased speed on demand, a low cost subscription model and convenient access from any internet-ready device. Security enhancements and disaster recovery plans also means that your practice will never lose its clinical or patient data.
How does it work?
As a cloud service provider for the health industry, we do not outsource any aspect of our IT infrastructure and we own our own data centres to host our proprietary health platform Cloud for Health . Using this platform, our clients can conveniently access all of their clinical applications.
End-users need only open any internet browser to login to our secure portal. Once logged in, Blue Chip is immediately launched. It is possible to access Blue Chip software on the cloud because of our proprietary Cloud for Health configuration, which can be customised to suit your clinic requirements. You will never lose your data due to our compliance with industry standards that require regular backups and disaster recovery policies.
BlueChip White Paper Request
---
What About The User Experience?
Our Cloud for Health users take full advantage of the speed and reliability possible from our proprietary cloud computing platform. The user experience on Blue Chip is unaffected and all features are readily available in a secure, reliable and speedy manner.
What are the costs?
Cloud computing services are simply cheaper than it is to set up the same solutions on an on-site network. When eliminating server costs, maintenance, upgrades, paid IT support and other expenses, a small monthly subscription per user is a welcome alternative.
With Cloud for Health all that is needed is an affordable monthly subscription, which includes backup and IT support. Give us a call today to discuss how our cloud computing service can benefit your practice.
What about Backups & Security?
Backups and security our first priority as we are well aware of the importance of patient and clinical data and the fact that health practices are often a target for hackers seeking patient information for identity theft or other purposes. Our clients that use Cloud for Health to host Blue Chip enjoy peace of mind as we use the latest in hardware and software security to prevent attacks and perform daily backups of all data. Each backup is retained for no less than 30 days before deletion.
In addition, we are fully compliant with regulations necessary to store and manage healthcare information.
Bluechip On Cloud For Health FAQ
---